Our colors are all over the world. This is exactly the case, because our graduates work not only in Ukraine. This is what they say about their work and their studies:
"In order to be a representative of innovative achievements, it is necessary to know perfectly the basics and theory of already obtained scientific and technical achievements, which are put in the academic programs of Ukrainian higher education. One of the most dynamic branches of our time is telecommunication, so it is important to be sure that you have enough knowledge and skills for the development and progress of modern telecommunication in our country. Kharkiv National Unity of Radioelectronics, represented by the Department of "Communication Network", was for me a real source of knowledge, inspiration and a reliable ticket to the modern world of technology. The training received at the department gave me the opportunity to work with leading companies in the production of telecommunications equipment and developers of new generations of cellular communication, such as Ericsson, Huawei, Nokia, Cisco, Juniper and others. Visits to research and development (R&D) centers gave me the opportunity not only to visit different countries, but also to touch the process of creating new telecommunication platforms and products. Over the years, I have been directly involved in the introduction of new telecommunication technologies in our country, such as EDGE, DWDM, IP-MPLS and 3G.
I wish you inspiration and diligence in your training.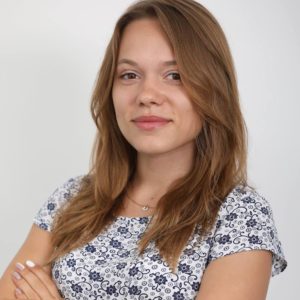 Elena Pyasetskaya (Usenko) is a 2017 graduate. 25 years old.
Elena is the head of the network testing team at Global Message Services,
an international company.
"Don't be afraid to set your own goals and go to them, whatever it takes! Everything is in your hands only!
"When I was a pupil of the 9th grade of secondary school № 10 c. Slavyansk (Donetsk region), already knew that I want to be a student of KNURE. In 2012 I entered the day form of study at the Department of "Communication Networks". Studying was not always easy, but teachers always managed to interest us, motivate and stimulate us. In student years, we managed to learn how to properly search and present information, ask questions and discipline.
The university has given excellent knowledge to test itself in professions on a speciality already on 3 – 4-th courses.
While studying at the university, I took part in the program "Jump into life" from the company "lifecell", after successful completion of the program I got a job in Kiev, then moved to Odessa for 2 years. The last year and a half of study combined with work, it was difficult, but it did not prevent me to get a master's degree, thanks to the teachers who went to meet me.
I want to wish all students: do not wait for the end of the studies and until you get a diploma, and look for work and work as a student. This will help you gain experience, practice, and after graduation to apply for a high salary and fashionable position.
Remember that it will always be difficult to start with, start small, and be sure to conquer the tops. Remember that everything depends on you. Look for an incentive, motivate and be sure to encourage yourself!
Respect the teachers. You will definitely say thank you for their work.
"Studying at the university allowed to expand basic knowledge and expertise in the corresponding professional direction. It is possible that all this (acquired knowledge) will not be applied by everyone, both in everyday life and in work, but it gives quite a wide field for maneuvers to find oneself as a professional.
 After graduation, he started working at NetCracker, where he made his career from a systems engineer to a project manager. He has worked with many customers on projects in the USA, Canada, Europe and Central Asia. In 2018, he moved to NEC Corporation UAE. At the same time, I received a grant and am studying at the HULT Business School at the Executive MBA Program.
"I will always be grateful to my department for the knowledge and experience that I gained during my studies from 2004 to 2009."